Read Time:
6 Minute, 54 Second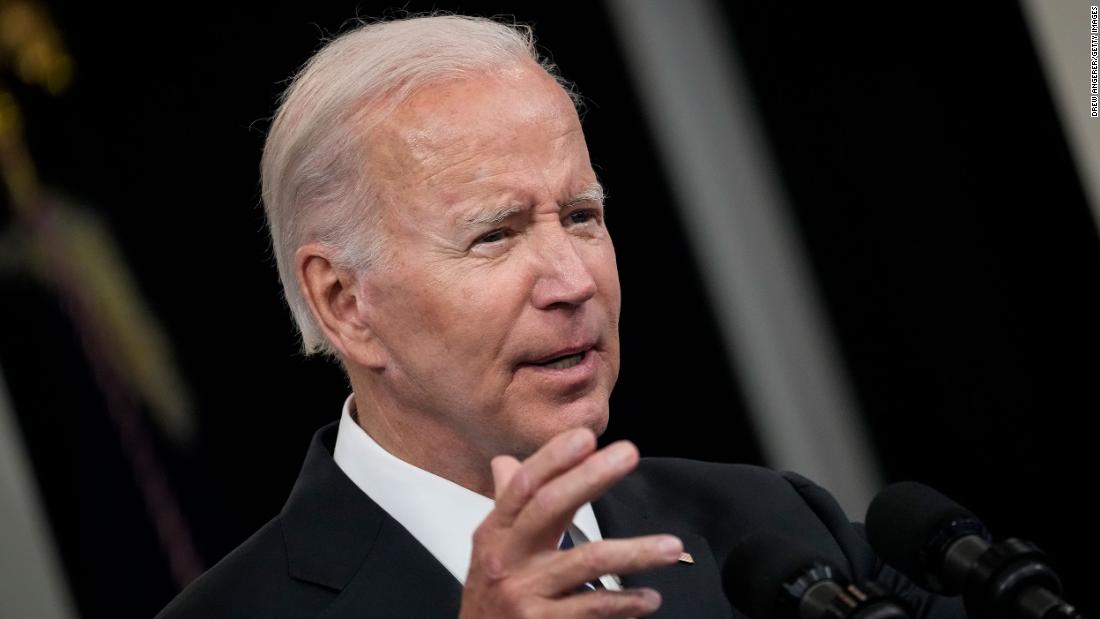 CNN.com – RSS Channel – HP Hero
After months of failing to accurately predict the inflationary crisis, the White House was back on a tightrope from which it has often toppled, trying to show Biden feels Americans' pain but confidently predicting relief is around the corner.
Biden insisted in a statement that the figures, while "unacceptably high," were "out-of-date" since they did not properly take into account 30 days of falls in gasoline costs as well as easing prices in commodities like wheat. The President's claim on the granularity of the figures may well be justified. And Biden is hardly the only Western leader saddled by high prices following pandemic-caused supply chain disruptions exacerbated by the war in Ukraine.
But his message was also oddly discordant given the months of frustration millions of Americans have felt. While improvements are possible next month, prices are likely to remain elevated for some time. And since Biden last year said high inflation would "change" more rapidly than people expected, while his aides were calling high prices "transitory," his predictions are unlikely to instill much confidence in imminent relief.
Michigan Rep. Elissa Slotkin, an endangered Democrat in November, faulted the administration on its earlier forecasts that the worst of the crisis was already over.
"I remember being with a bunch of senior leaders in November, screaming my head off about the price of gas in November and being patted on my head and saying like, 'Don't worry, we got to get through Christmas and it'll be better in 2022,'" Slotkin told reporters on Wednesday. "I don't think that we have a great sense of where this is going."
One of the most politically damaging characteristics of inflation is that it is felt by every voter, since it hits vital commodities like dairy products, bread, eggs, rent and gasoline and tends to impact less well-off people in a more extreme way. It's also demoralizing since no one knows when things will improve.
"I don't feel like I have any confidence on when the prices are going to go down, so it's been a little frustrating," Northern Virginia motorist Kristin Allstadt told CNN's Brian Todd on Wednesday at a gas station.
A threat many thought vanquished is roaring back
The inflation crisis is particularly uncomfortable for Biden since he's always prided himself on maintaining a genuine connection with middle class and blue collar Americans, which is central to his brand. But empathizing with the hurt many voters are feeling and fixing their problems are two different things.
The bad news for Democrats is that while Biden is predicting a fall in inflation, it is unlikely to be large enough to offset voter frustration in time for the midterms. The factors causing higher prices, including the war in Ukraine, Covid-19 disruptions in manufacturing hubs in Asia, and high demand and limited supplies are unlikely to ease in the short term. Former Treasury Secretary Larry Summers told CNN's Wolf Blitzer on Wednesday that there is unlikely to be a quick turnaround.
"My guess is that inflation will be lower next year than it was this year and quite likely will be lower in 2024 than in 2023. But I think is not going to be easy to bring inflation back to the kind of levels we have been accustomed to in recent decades," Summers said. "We have let the genie out of the bottle."
Biden heads abroad to seek relief at the pump
The impact of gas prices on Wednesday's inflation data helps explains why it might be politically smart for Biden to lobby Saudi Arabia, despite branding it a "pariah" over the murder and dismemberment of Washington Post columnist Jamal Khashoggi in 2018. But when the President was asked in an interview with Israeli television whether the Saudi leg was about oil he replied: "The trip is about stability in the Middle East." The White House, conscious of a perception that Biden is begging the Saudis for help, has framed his travel almost as a peace mission as he seeks to lock in a rapprochement with Israel and some Arab states.
But Biden's message conflicted with that of his own economic team, which seems, as inflation rages, to be happy with the perception that the President is seeking relief for Americans.
"The President right now is in the Middle East because he wants to get as much oil on the market as possible," Cecilia Rouse, chair of the Council of Economic Advisers, said on CNN's "The Lead with Jake Tapper" on Wednesday.
"That is the way we bring down prices," she said, also referring to a list of measures Biden had taken to lower prices, including easing regulations on ethanol and releasing oil from strategic reserves.
While securing more supplies could affect oil prices and filter through to lower prices at the pump, it's not a certain remedy. And flooding oil markets is unlikely to solve one of the key issues keeping gasoline prices high — a lack of refining capacity.
And the President's political exposure from inflation is not limited to the midterms. West Virginia Sen. Joe Manchin warned on Wednesday that the new data made him reluctant to support a fresh attempt to revive a scaled-back version of Biden's social spending and climate change plan. Without Manchin, nothing can get through chamber, where Democrats have a tiny majority.
And Wednesday's inflation figures, whatever nuance and caveats they deserve, were yet another gift for Republicans who can portray it as solely the fault of Biden's economic policies and Democratic control of Washington.
"Democrats' one-party rule in Washington has failed hardworking families across America. Just this morning, we learned that Bidenflation hit another 40 year high, soaring to 9.1%," House Republican Conference Chair Elise Stefanik said Wednesday, calling it "Joe Biden's energy crisis" in a blunt, even if oversimplified, message likely to inflict great damage on Democrats in November.
July 14, 2022 at 12:52PM