Read Time:
3 Minute, 15 Second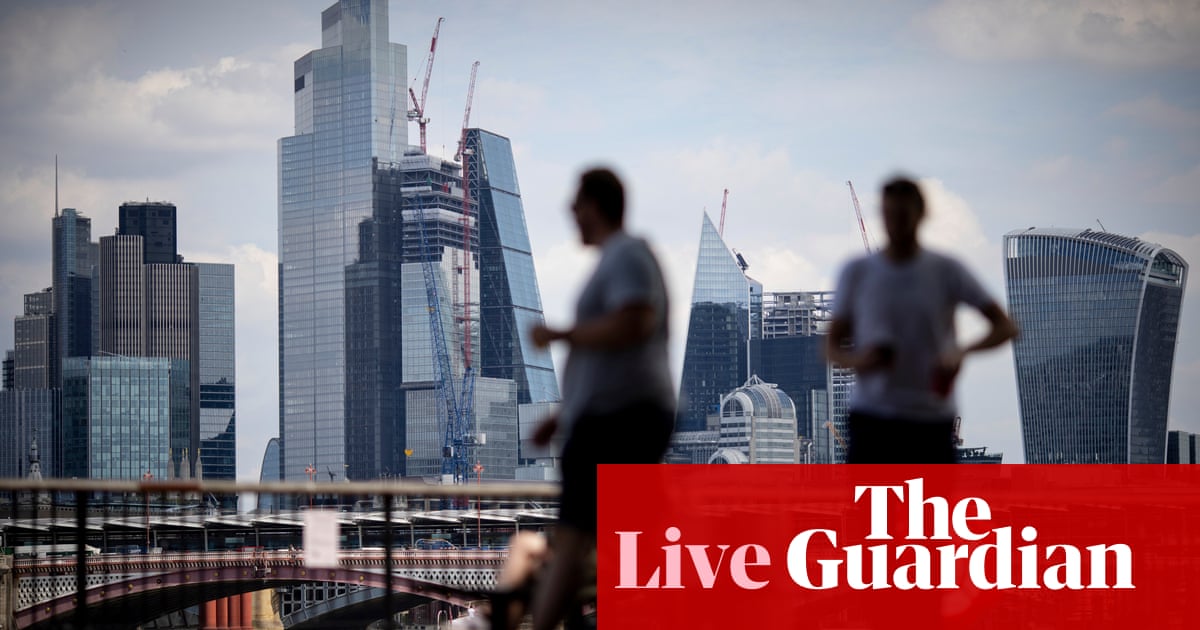 The Guardian
Introduction: China's weak GDP report adds to slowdown fears
Good morning, and welcome to our rolling coverage of business, the world economy and the financial markets.
Fears over the global economy have been sharpened by the news that China's growth took a shunt in the last quarter, as Covid-19 outbreaks and restrictions hit the economy.
China's economy shrank by 2.6% in the April-June quarter, much worse than expected, as the lockdowns imposed in major cities this year hamstrung the economy.
On an annual basis, China's GDP grew just 0.4%, the slowest since the first wave of the pandemic in 2020, and shy of forecasts of 1.2% growth.
The slowdown comes after China's biggest city, Shanghai, was sealed off for two months as it battled a Covid-19 resurgence, tangling supply chains and forcing factories to halt operations.
It means Beijing is likely to miss its goal of 5.5% growth during 2022 — probably by a wide margin — another blow to a global economy hit by recession fears.
But it could also spur policymakers into fresh stimulus measures to shore up growth, as multiple cities are currently facing some form of restrictions as officials try to stamp out Covid infections.
As my colleague Martin Farrer writes, signs have been mounting of a slowdown:
This week's figures showed that imports for the second quarter grew by just 0.1%, called "staggeringly" low by one economist considering that prices for key imported commodities such as oil and food have rocketed since April.

The statistics bureau also said on Friday that youth unemployment has risen to 19.3%, a trend accelerated by the full or partial lockdowns imposed in major centres across China in March and April, including the commercial capital, Shanghai.

While many of those curbs have since been lifted, and June data offered signs of improvement, analysts do not expect a rapid economic recovery. China is sticking to its tough zero-Covid policy amid fresh flare-ups, the country's property market is in a deep slump, and the global outlook is darkening.
We'll have more reaction to the China slowdown shortly.
Also coming up today
UK travellers are facing more disruption this summer, after the RMT union announced last night that drivers at 14 train operating companies are to go on strike on two days next month, bringing many services to a halt.
The strike, on 18 and 20 August, is part of an ongoing dispute over jobs, pay and working conditions.
A separate UK-wide rail strike is set to take place on 30 July as train drivers across eight companies walk out for 24 hours, the ASLEF union announced yesterday.
Pressure is mounting on Heathrow boss John Holland-Kaye, after ministers gave him until noon today to provide a plan to resolve the airport's staffing problems, the Daily Telegraph reported.
The move comes aftert Emirates refused its demand to cut flights to help address chaos at the airport.
Investors will be watching Italy, where a political crisis is bubbling away. Yesterday Italy's prime minister Mario Draghi offered his resignation after the 5-Star Movement, a coalition party, failed to back him in a confidence vote — but the country's president has rejected it.
And the latest US retail sales and industrial production data could influence how sharply the US Federal Reserve raises interest rates later this month.
The agenda
7am BST: European car sales for June
9am BST: Italian inflation report for June
10am BST: Eurozone trade balance for May
1.30pm BST: US retail sales for June
2.15pm BST: US industrial production for June
3pm BST: University of Michigan consumer sentiment index for July
July 15, 2022 at 12:27PM Graeme Wearden