Read Time:
4 Minute, 1 Second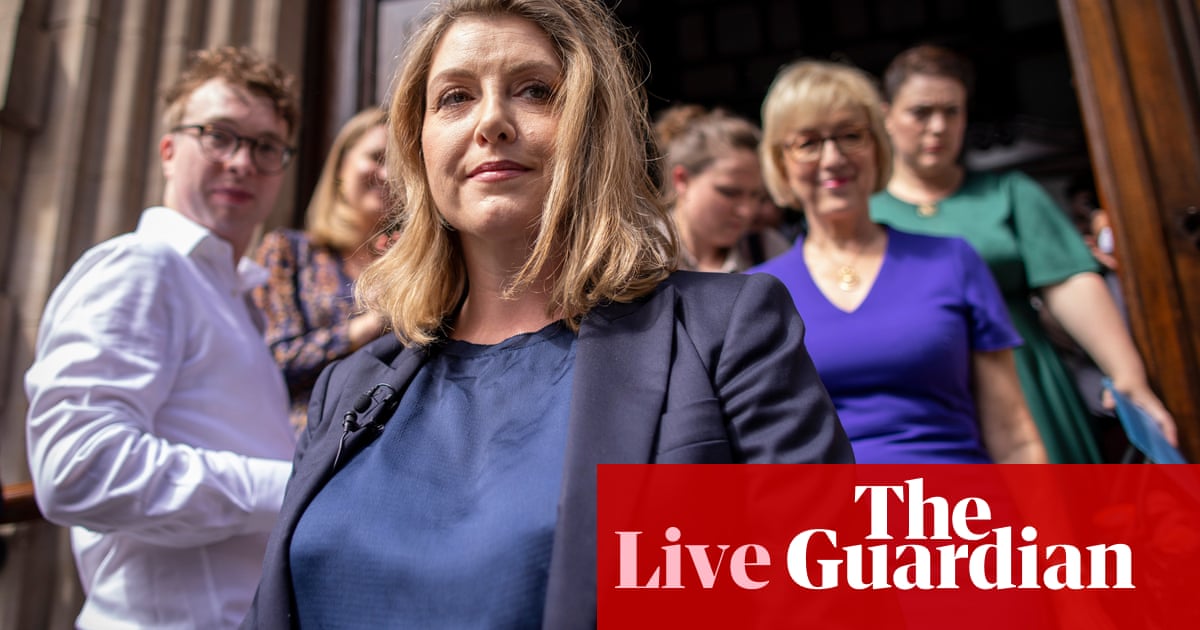 The Guardian
Meanwhile, the former Brexit minister David Frost has this morning urged Kemi Badenoch to pull out of the Tory leadership contest to bolster Liz Truss's position in the race.

Lord Frost also stepped up his attacks on the second-placed candidate Penny Mordaunt, saying she was "absent on parade" when he worked with her on post-Brexit negotiations last year.

Truss was picking up support from the Tory right after the attorney general, Suella Braverman, was eliminated from an increasingly bitter leadership race in which the former chancellor Rishi Sunak came out top and Mordaunt second in the latest round of MPs' votes.

Writing in the Daily Telegraph, Frost said:
Kemi and Suella Braverman set out convincing programmes, with differing emphases, for change.

But Liz's depth of experience, her energy and ideas – as well as the simple fact she has the most votes of the three – put her in the lead.

It is now time for pragmatism. I urge Kemi to stand down in return for a serious job in a Truss administration.
For more on this developing story, see my colleague Jamie Grierson's piece below.
The intervention came as the Tory MP Justin Tomlinson denied Badenoch should be judged for a lack of experience.

He told Times Radio:
The most important part of experience is pure ability, and I didn't know Kemi personally before I supported her campaign, but I've seen her first-hand – select committees, despatch box, inter-ministerial meetings – and she really stood head and shoulders above many of our very talented colleagues.

She has had two years' more experience than both David Cameron and Tony Blair, who both went and did very well in elections. And, ultimately, this all comes down to elections. We're facing an unprecedented fifth term, and to do that we need a fresh start, where we've fully renewed.

Nobody offers a better chance, particularly for my Red Wall and Blue Wall colleagues, to make sure they are re-elected.
Good morning, I'm Tom Ambrose and welcome to the UK politics live blog on what is already a very warm Friday here in London. With the Tory leadership race narrowed down to five candidates, I will be bringing you all the latest news and opinions from across Westminster as we head into the weekend.

There is a hustings hosted by the ConservativeHome website due to take place at 1pm – we will aim to bring you updates from that – followed by another taking place live on Channel 4 at 7.30pm.

However, the main focus so far the day, as the remaining candidate's supporters hit the airwaves and television studios, is the accusation of a smear campaign against the surprise front-runner Penny Mordaunt.

Transport minister Wendy Morton denied that the team behind Liz Truss's leadership bid is involved in a so-called "black ops" campaign against her rival. Morton, appearing on Times Radio, said she is "absolutely not" involved in any kind of untoward campaign. She said:
What I am involved in is a campaign to get Liz Truss elected as the next leader of the Conservative Party because I happen to think, I know, that she's the right candidate.

I worked with her at the Foreign Office and I saw first-hand how hard-working she is, how dedicated she is, and how she just gets on with the job and she delivers.
She said the Truss camp is not concerned about the lead Mordaunt has maintained against the Foreign Secretary, adding:
You know, we have still got rounds of voting to go, there are still candidates, there are colleagues out there who have not declared for a candidate, there are colleagues who have voted for candidates who have now dropped out of the race. So it's all to play for.
It came as Tory MP Dame Maria Miller, pressed on whether Mordaunt could fall victim to dirty tactics as she seeks to replace Boris Johnson, said her candidate wanted a positive campaign.

She told Sky News:
Penny's support among Members of Parliament has grown, and that is the same throughout the country. This leadership contest is run along a set of lines and I think people will want it to be a positive campaign. We're colleagues, together, we're not opposing each other in a fundamental political sense. It is just about getting a new leader.
July 15, 2022 at 03:06PM Tom Ambrose