Read Time:
2 Minute, 4 Second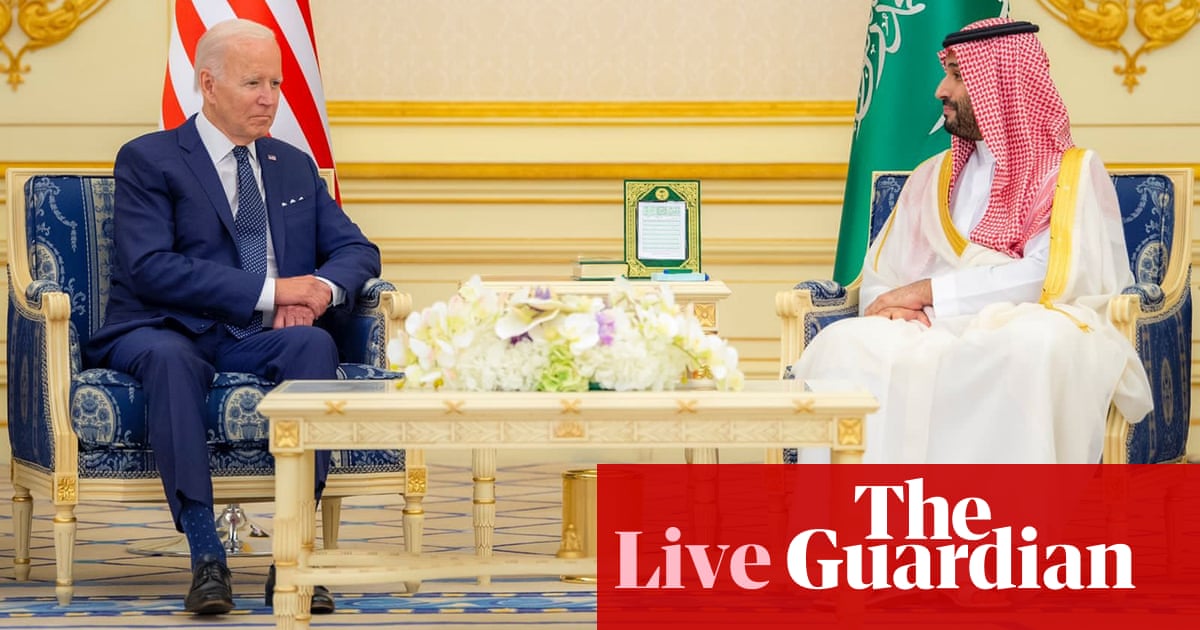 The Guardian
Key events:
Major European stock markets climbed at the open:
FTSE 100 opened 0.66% higher
France's CAC 40 rose 0.58%
Germany's DAX opened 0.5% higher
Spain's IBEX climbed 0.76%
Introduction: Oil prices climb after Biden fails to secure output hike
Good morning, and welcome to our rolling coverage of business, the world economy and the financial markets.

Brent crude prices have pushed past $1 per barrel this morning, rising more than 2.6% to $103.88, as traders digested the lack of progress in securing output hike pledges from Saudi Arabia over the weekend.

US president Joe Biden's trip to the Middle East sparked renewed concern about global oil supplies, which momentarily retreated last week as fears grew over a looming global recession that could reduce demand.

It was comments from Saudi Arabia's foreign minister, Prince Faisal bin Farhan Al Saud, which dashed hopes over an agreement. He said that a US-Arab summit on Saturday did not discuss oil and that the oil cartel group of exporting countries known as OPEC+ would continue to assess market conditions.

It will continue to pile pressure on households, who have been hammered by rising living costs including energy prices.

Naeem Aslam, chief market analyst at Avatrade said:
Traders got one clear message from Biden's recent visit to Saudi Arabia, during which President Biden spoke to a number of Arab leaders.

The message is that it is OPEC+ that makes the oil supply decision, and the cartel isn't remotely interested in what Biden is trying to achieve. OPEC+ will continue to control oil supply, and one country alone cannot determine the oil supply—at least that is the message that traders have taken from Biden's visit to Saudi Arabia.

Brent oil prices crossed above the $100 price mark earlier today, and if the price continues to trade above this price mark, then it is highly likely that the path of the least resistance will be skewed to the upside.
Otherwise, we'll be keeping an eye on comments from Bank of England officials and bank earnings out of the US.
The agenda
10am BST: Bank of England MPC member Michael Saunders speaks at the Resolution Foundation
12:30pm BST: Goldman Sachs, Bank of America report Q2 earnings
July 18, 2022 at 12:56PM Kalyeena Makortoff