Read Time:
4 Minute, 27 Second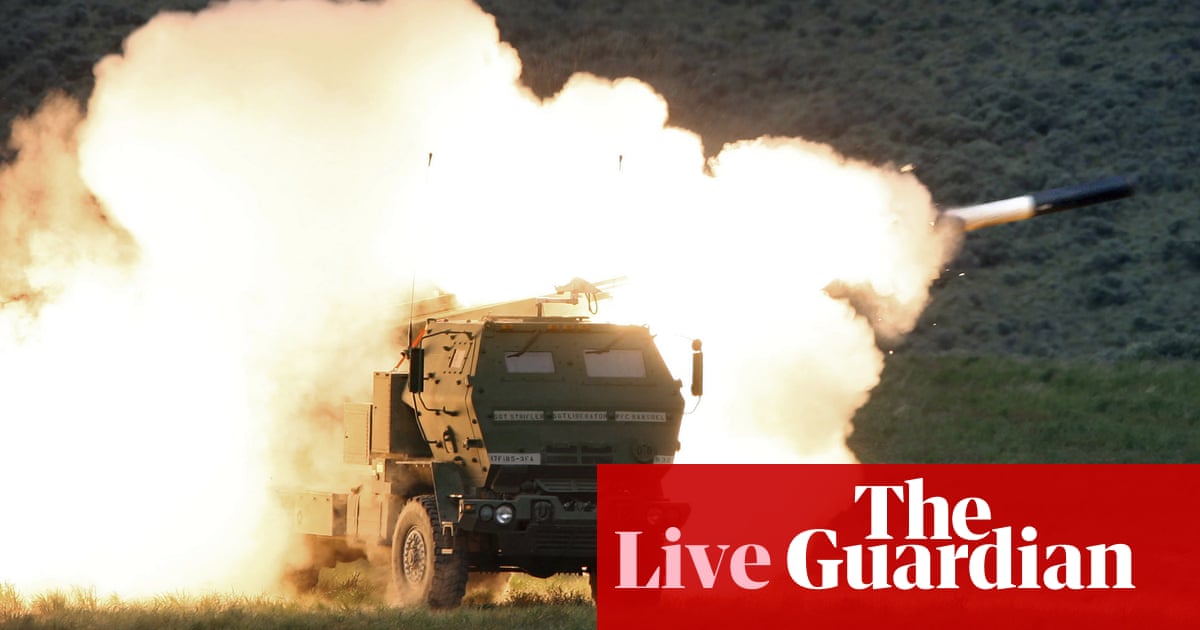 The Guardian
Key events:
Hello and welcome back to the Guardian's live coverage of the war in Ukraine.

I'm Samantha Lock and I will be bringing you all the latest developments for the next short while.

Russian President, Vladimir Putin, and his Turkish counterpart, Tayyip Erdoğan, will meet in Tehran later today to discuss the export of Ukrainian grain, according to a Kremlin aide.

Meanwhile, Ukraine's top military commander has credited the "timely arrival of M142 Himars" – the US-supplied advanced medium-range rocket systems – with helping soldiers retain their defensive positions on the frontline.

It is 7.30am in Kyiv and here is where things stand:
Russian forces shelled a town in eastern Ukraine, killing six people, according to Ukrainian officials. "Early in the morning, the town of Toretsk was shelled. A two-storey building with people inside was destroyed," Ukraine's state emergency services said. "Rescuers found and recovered the bodies of five dead people in total. Three people were rescued from the rubble and one of them died in hospital."
Zelenskiy has appointed a new security official as acting head of the domestic security agency after two top officials were fired over claims of failure to counter Russian infiltration. Zelenskiy's childhood friend, Ivan Bakanov, will be replaced by Vasyl Maliuk, a former first deputy head of the SBU who led the anti-corruption and organised crime unit of the agency's central directorate.
The United States will continue to provide intelligence to Ukraine despite recent changes in Ukrainian President Volodymyr Zelenskiy's inner circle, the US state department said on Monday. Zelenskiy removed his security service chief and top prosecutor from office on Sunday. US state department spokesperson Ned Price said: "We invest not in personalities, we invest in institutions. We do have an intelligence-sharing relationship with our Ukrainian counterparts … We continue to proceed ahead with that."
Ukraine's first lady, Olena Zelenska, met the US secretary of state, Antony Blinken, on Monday as she began a series of high-profile appearances in Washington that will include a session with US counterpart Jill Biden.
Russia's Gazprom has told customers in Europe it cannot guarantee gas supplies because of "extraordinary" circumstances, according to a letter seen by Reuters. The Russian state gas monopoly said it was declaring force majeure on supplies, starting from 14 June.
Turkey has said a meeting with Ukraine, Russia and the UN this week to discuss resuming Ukraine's Black Sea grain exports is "probable", while a Turkish official said lingering "small problems" should be overcome. A Kremlin aide also told reporters that the Russian president, Vladimir Putin, and Recep Tayyip Erdoğan will discuss the export of Ukrainian grain at their meeting in Tehran on Tuesday.
Erdoğan has threatened once again to "freeze" Sweden and Finland's Nato bids unless the military alliance complies with his conditions. "I want to reiterate once again that we will freeze the process if these countries do not take the necessary steps to fulfil our conditions," he said. Last month, Erdoğan urged the two countries to "do their part" in the fight against terrorism, accusing them of providing a haven for outlawed Kurdish militants.
Ukraine will break diplomatic ties with Belarus if its forces cross the border in support of the Russian invasion, foreign minister Dmytro Kuleba said in an interview with Forbes. "Belarus is an accomplice to the crime of aggression, there is no doubt about that. We broke off diplomatic relations with the Russian Federation immediately after the start of the full-scale attack. Relations with Belarus will likewise be severed if the Armed Forces of the Republic of Belarus cross the border of Ukraine," he said.
Foreign ministers from European Union countries have agreed another €500m (£425m) of EU funding to supply arms to Ukraine, taking the bloc's security support to €2.5bn since February. "Today at the EU foreign ministers' meeting, a political agreement was reached on the fifth tranche of military assistance to Ukraine," Sweden's minister for foreign affairs, Ann Linde, said.
Putin said it would be impossible to cut Russia off from the rest of the world, adding that sanctions imposed by western countries would not turn the clock back on Russia's development.
EU foreign ministers are discussing a ban on Russian gold imports to further curb funding for the Kremlin's war machine. The EU's high representative for foreign policy, Josep Borrell, said the ban on Russian gold was the most important measure of the latest plan, which is focused largely on "improving the implementation of the already existing sanctions".
The independent Russian TV station, Dozhd, has begun broadcasting from abroad. The outlet was blocked in March as the government cracked down on independent media outlets following the invasion of Ukraine.
July 19, 2022 at 10:30AM Samantha Lock