Read Time:
3 Minute, 15 Second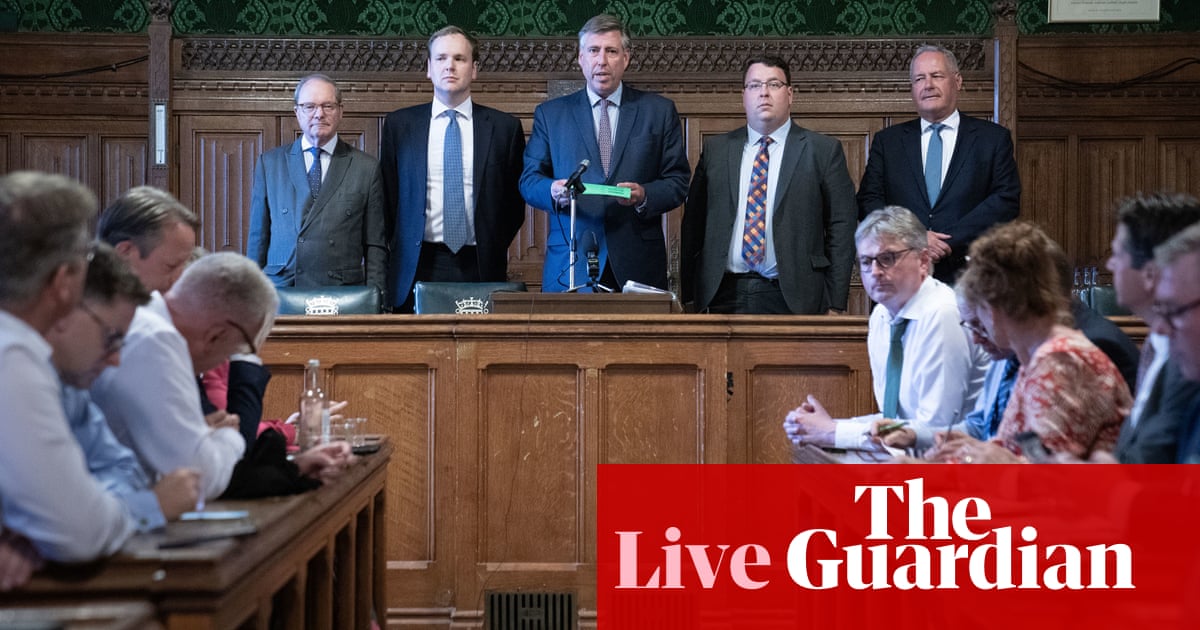 The Guardian
Key events:
Badenoch claims she is only 'change candidate' left in Tory leadership contest
In a post on Twitter after last night's results were declared Kemi Badenoch claimed that Tom Tugendhat's departure from the race meant she was the only "change candidate" left in the race.
Penny Mordaunt would probably contest that. Badenoch, the former equalities minister, is the only candidate still in the race who has not served in cabinet. But as equalities minister she pursued an "anti-woke" agenda popular with No 10.

Mordaunt, the international trade minister, never resigned from Boris Johnson's government (unlike Badenoch). But she has never identified as an enthusiastic supporter of Johnsonism.

Good morning. A week after nominations closed, and after three ballots, some of the fog around who will be our next prime minister has lifted and at least three propositions now seem reasonably well founded.
Rishi Sunak, the former chancellor, is now all but certain to be one of the two candidates on the final ballot for Conservative party members. He is now on 115 votes and once a candidate gets 120 (just over a third of the total), it is mathematically impossible for two other candidates to get more votes. Sunak is also particularly well placed to pick up many of the 31 Tom Tugendhat votes now up for grab; Sunak, like Tugendhat, presents as a mainstream pragmatist, not an ideological rightwinger.
Liz Truss and Penny Mordaunt are now the two strongest candidates in the contest to be the second person on the final ballot. One recent survey suggested both would beat Sunak in the final poll, but Truss more comfortably than Mordaunt. Almost certainly, Sunak's chances would be better against Mordaunt; her lack of experience means the risk of her campaign imploding under scrutiny remains high (over the last week her popularity has already fallen significantly), and Truss, unlike Mordaunt, would be guaranteed the support of the Tory right en masse.
Kemi Badenoch looks likely to be eliminated this afternoon. It is not inevitable – she has defied expectations already – but she remains 13 votes behind Truss, and may struggle to get much of the Tugendhat vote. If she does fall out, her votes will be for grabs tomorrow – and would decide whether Sunak faces Truss or Mordaunt, which could in turn determine who gets elected as the next PM.
Here is the agenda for the day.

9.30am: Boris Johnson chairs what might be the last meeting of his cabinet.

10.30am: Officials from the CBI and the TUC are among the experts giving evidence to the Commons business committee on post-pandemic economic growth.

12pm: Voting starts in the fourth ballot for the Conservative party leadership. The ballot closes at 2pm.

12.30pm: Michael Gove, the former levelling up secretary, and Lord Frost, the former Brexit minister, take part in a discussion on the future of Conservatism at the Policy Exchange thinktank.

3pm: Sir Graham Brady, chair of the 1922 Committee, announces the results of the latest leadership ballot.

Afternoon: Pay awards for around 2.5 million public sector workers, including NHS staff and teachers, are due to be announced.

I try to monitor the comments below the line (BTL) but it is impossible to read them all. If you have a direct question, do include "Andrew" in it somewhere and I'm more likely to find it. I do try to answer questions, and if they are of general interest, I will post the question and reply above the line (ATL), although I can't promise to do this for everyone.

If you want to attract my attention quickly, it is probably better to use Twitter. I'm on @AndrewSparrow.

Alternatively, you can email me at andrew.sparrow@theguardian.com
July 19, 2022 at 02:39PM Andrew Sparrow