Read Time:
2 Minute, 58 Second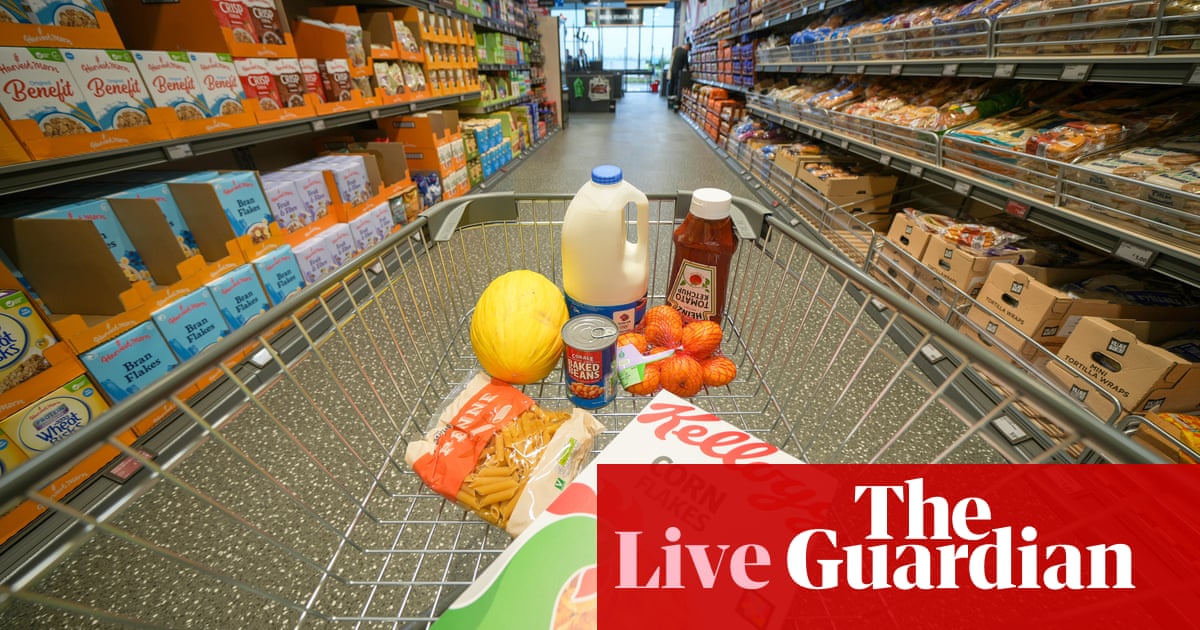 The Guardian
Key events
Introduction: UK inflation forecast to approach double digits on higher food and energy costs – business live
Good morning, and welcome to our live, rolling coverage of business, economics and financial markets.

It's inflation day in the UK. The consumer prices index is forecast to have risen by 9.8% in the 12 months to July, approaching double digits. In June, the annual rate reached 9.4%, the highest in four decades.

Economists expect the core rate, which strips out volatile items like food and energy, to have ticked up to 5.9% from 5.8%. The figures will be released by the Office for National Statistics (ONS) at 7am BST.

Investec economist Sandra Horsfield said:
UK consumer price inflation has been on a relentless upward path: since breaching the 2% target – in May 2021 – there have only been two months in which the annual inflation rate has slipped vis-à-vis the previous month.

A series of shocks have brought this about. First, the disruption to production and distribution in response to Covid, against a backdrop of maintaining demand through government fiscal support, put pressure on goods prices. Second, the unlocking of certain sectors such as hospitality, prompted the release of pent-up demand and savings in sectors where labour markets had become very tight. And third, already tight commodity markets were squeezed substantially as a result of Russia's invasion of Ukraine – particular pinch points being natural gas and, this being the marginal fuel for electricity generation, power prices, as well as food.
She said there are some signs that the long-awaited easing in supply chain disruptions may have begun, but noted that the surging cost of energy – up 57.3% year-on-year in June – shows no sign of abating.
Nor has services price growth cooled as yet as labour markets are still very tight. For July, we anticipate yet another move higher in the annual inflation rate to have taken place, to 9.7%. Although the easing in supply chain pressures may have contained core inflation, which we expect to have nudged up only marginally, to 5.9%, higher food prices in particular may have made a mark on headline inflation.

In time, the softening in global commodity markets could help price pressures to diminish – as would a weakening in the labour market, as the Bank of England's rate rises start to crimp aggregate demand.

But unless the ONS decides that government mitigation can count as an offset in CPI inflation, the further surge in the energy cap that looks all but baked in for October could push headline price rises to well over 12% come early Q4. In other words, the cost of living crisis is far from over, as is the pressure to help households struggling to afford essentials as a result.
It's a different picture in the US, where inflation slowed more than expected last month to 8.5% from June's four-decade high of 9.1%, reflecting lower energy and gasoline costs, while the core rate remained at 5.9%. In Canada, inflation also eased, for the first time in a year, to 7.6% from 8.1% in June, official figures showed yesterday.

The Agenda
10am BST: Eurozone GDP growth for the second quarter (second estimate) (forecast: 0.7%)

1.30pm BST: US Retail sales for July (forecast: 0.1%)

7pm BST: US Federal Reserve minutes of last meeting
August 17, 2022 at 12:09PM Julia Kollewe