Read Time:
5 Minute, 32 Second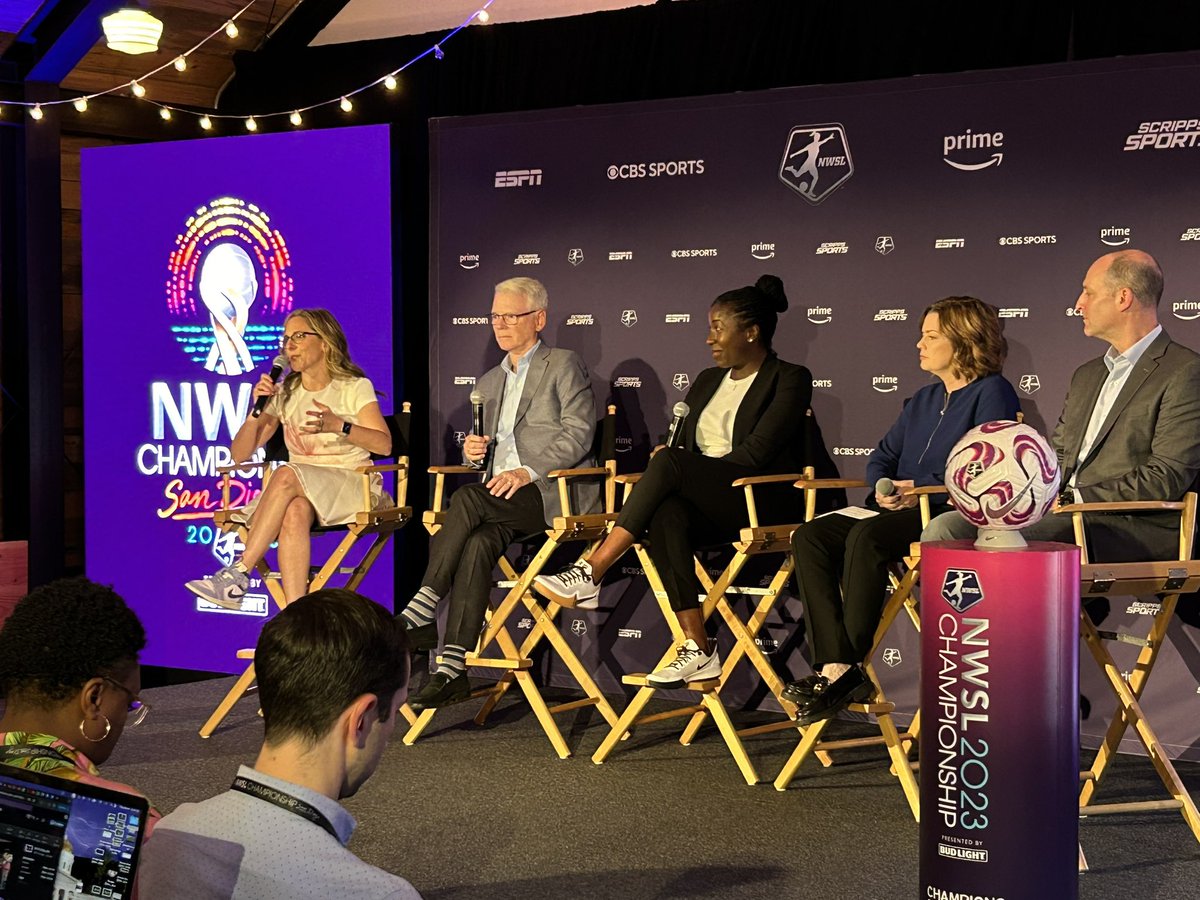 Someday soon it won't be men's sports or women's sports…just sports…we saw a change this week… Sports Marketing & PR Roundup
There are lots and lots of buzz…and business being done around "women's sports" as we probably all know. Comments like "arrival," "movement not moment," "get on board" are bandied about time and again.
Yet for all the enthusiasm there is still the whispering that certain teams and leagues are still in their relative infancy compared to the behemoths of the NFL, the NBA, MLB, the PGA Tour, the NHL, NASCAR, FIFA and a few others that are also leagues that happen to be played by those who identify as men. Those leagues have had a big head start in terms of years, and if you are a brand looking for a safe bet that few can challenge, you may talk or toe dip into sports where the participant is a woman, but it is still a bit safer to guarantee ROI when challenged, to spend with one of the big ones, be it on a team or league level.
These are businesses, and business growth takes investment with a plan for return, and in the short term the return…in measurement, activation and scale…can still be elusive. Brands are also always looking to fire sale…we all love bargains don't we…so investing as a toe dip at a lower cost is also a challenge. Will we accept less just to have the logo and the identity.
Now women's investment idea is changing at a steady pace. We see brands like Ally and nationwide, and Delta, and CarMax and KPMG and Adobe seeing the commitment to leagues like the NWSL, the WNBA, the LPGA etc. because they are putting money, and seeing return with a growing audience.
We also saw a massive deal announced with multiple partners by the NWSL for broadcast rights this past week, one which will make the consumption of the stars of the league wider and probably easier than ever before. You can read one of the many pieces summarizing a historic announcement here.
That's all great, but we as consumers and industry professionals need to take another step beyond this vs that in sports, and I point to quotes from this past week by CBS Sports President Sean McManus as to what I am leading to.   
"I've been involved in a lot of media announcements and press conferences. But I've never been at one where there are four major media companies making an announcement [together] on one property," McManus said. "It is becoming increasingly difficult to reach consumers, as we all know, and if you're going to be a successful league, you've got to be able to reach them over-the-air broadcast TV, on linear cable TV, and on direct-to-consumer free and subscription video, on syndication, on streaming. You need to have all these platforms."
Great. He is talking about the NWSL deal. What he is NOT saying is the phrase "women's sports." He is talking about what a leading property has to do to engage the fan and use that platform to innovate and grow. Not men's vs. women. Sport property vs sport property.
We need to reach a point soon where we are talking about soccer. Basketball. Lacrosse. Volleyball.
Sports. Great investments as business as a whole, as gender neutral, as great properties. That's hard for a culture to do, because that's not what many of a certain age are used to. Title IX is only 50 years old in the US. The WNBA is only a quarter century plus. The NWSL is 10 years. Athletes Unlimited is only a few years old, so we can easily default back to the larger properties, and that's OK.
What's less OK is to continue to put men's sports in one bucket and women's sports in another. Some men's sports experiences for fans, frankly suck. Some leagues played by women have an amazing fan experience. As we see more infrastructure investment you will hopefully see leagues where the athlete is a women innovate with broadcast technology, AI, improved and unique partnerships, megacasts and the like. There is so much blue ocean available to innovate, and it doesn't always have to be Nickelodeon and the NFL. It could be a gaming challenger and the WNBA. It could be broadcast technology for League One Volleyball. It could be a new, well-funded social platform with the NWSL.
And other leagues, played by men, can look at those investments and innovations and take from them.
None of this is easy. The dollars are shifting a bit yes…but what is needed is not us against them. It's to make the pie bigger so that both fit in budgets. It is slowly happening, but it takes time and reframe and mentality shift. Also on the side of sports played by women, you have to continue to invest and do everything to make the option, or the choice, a shared one by beating back naysayers. That means doing media, expanding promotions, showing up at events…promoting your brand, your team your league. That takes time and committment.
When one league succeeds and innovates, no matter the gender of the athlete, everyone learns and wins, and we support and celebrate the successes.
That's not to say that when women's leagues set records for a sport, that there should be no celebration. Those moments in time of newfound engagement have to be recognized but not just by the insiders…by EVERYBODY…young boys and girls, parents, grandparents, brands, media…the collective.
I have been lucky to have been around amazing stories regardless of gender for decades. They are people, teams, brands, leagues unto themselves. None is more unique or fun or valuable than the other. The more we have a collective mindset, a collective spend, an unthreatened attitude, the more we will have to share and experience, and that takes A LOT of time to do.
We are seeing "women's sports" grow for sure. It's fun to be a part of. There is a uniqueness to it because young women see themselves succeeding and that's beautiful. But to really grow it needs to be as one.
Even playing field, love every side. The thrill of victory and the human condition is really free of gender. That's what we need to get to. Great business opportunities that lead to more success for all. Just ask Sean McManus.
admin